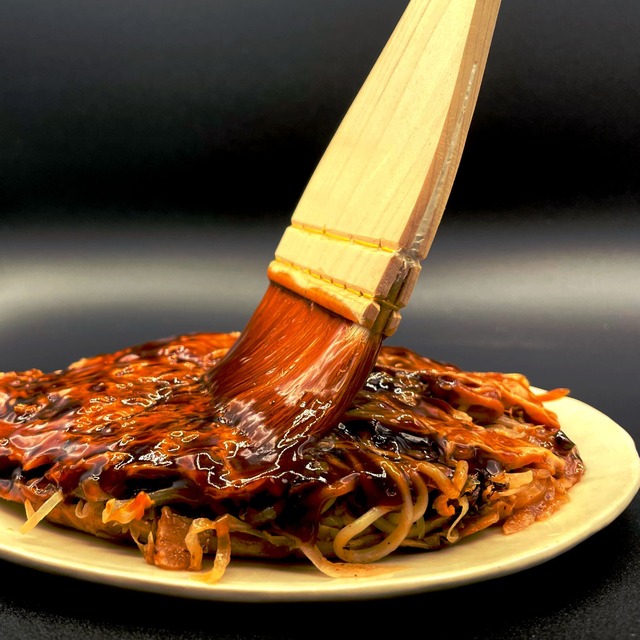 SAUCE-BAKE 45mm (food,cooking) / ソース刷毛
¥1,760($11.79) tax included
Payments will be paid in Japanese yen. The price in the foreign currency is a rough estimate.
Shipping fee is not included. More information.
Usage:Okonomiyaki sauce application, cooking sauce coating
Main raw material:Goat hair, Japanese cypress
Other materials:Food Sanitation Law-compliant special adhesive and silicone rubber
Full length:300mm
Brush head width:45mm(1.5寸)
Brush head length:38mm
Brush head thickness:4.5mm(root)

Product Details:This brush is specially designed for applying sticky sauces (sauce) to okonomiyaki and takoyaki. The bristles are made of goat hair, which has a good content and a little hardness, so that the sauce can be applied firmly.
The side of the handle of our brushes has a gap (right brush in the fourth photo), but this gap is completely filled with silicon rubber (left brush in the fifth photo), which conforms to the Food Sanitation Law, so that no sauce can get into the gap, and there is no cavity in the handle. Therefore, even if the brush is plunged into the sauce, the sauce will not get into the handle, which is an excellent feature in terms of hygiene.
In addition, in order to remove odors peculiar to animal hair, such as goat hair, the bristles are thoroughly cleaned with a food-safe cleaning solution after being boiled to remove odors.
Add to Like via app
Reviews

(0)

Shipping method / fee

Payment method
¥1,760 ($11.79) tax included